The Ultimate Guide to Kitchen Range Hoods
So, it's time to remodel that outdated kitchen. There are many factors to consider, but the chances are that kitchen range hood ideas and ventilation systems are not what gets you giddy when you think about the design process as a whole. They may not even be on your radar at all, but they are one of the essential appliances in your kitchen if you so choose to install one. While you might not need one at all (Charlotte building codes do not require kitchen range hoods), if you are a serious chef, or cook at home at least three or four nights a week, then put your apron on, and read further.
First – let's break down the definition of a kitchen range hood. A kitchen range hood is a canopy with a fan or blower that functions as a capture area to eliminate the air pollution created by cooking. The main reason for installing one is to keep your kitchen clean and free of smoke, grease, and odors. No one wants Monday's broccoli scent lingering a few days later, right? A well-designed range hood can also make a delightful design statement, functioning as the focal point of your kitchen. 
We are hoping, fingers crossed, that this article on kitchen range hood ideas will make it easier for you to decide which type is the best choice for your project, based on function, aesthetics, and cost. Before starting your project, you can learn more about kitchen renovations by filling out this easy form to download our Kitchen Appliance Guide. It will tell you everything you need to know.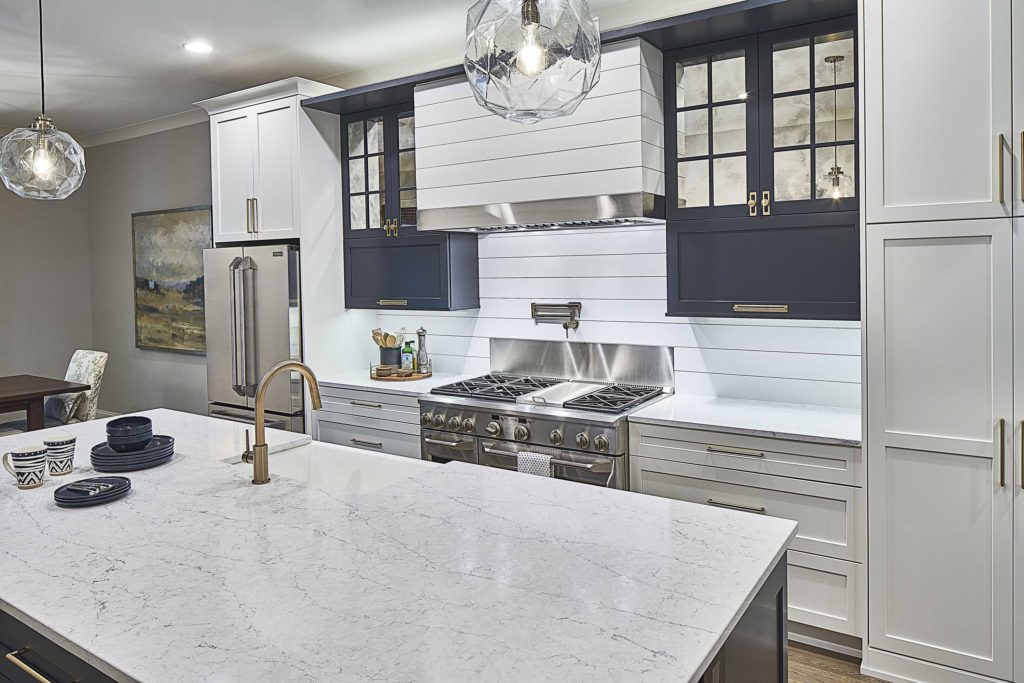 Options for Range Hood Venting
No one likes cooking odors wafting around the house, especially if the kitchen is part of an open-space design. Ventilation is the key to keeping your kitchen free of grease and smoke. Although Charlotte building codes do not require ventilation with gas cooking appliances, we recommend installing a ventilation system in your kitchen, and you'll probably be mighty glad you took our advice. Just keep in mind that if you decide to use one, you will have to comply with a range of local building codes. Oh, and a little pro tip from us kitchen remodelers here at ReVision. If smells are really, truly awful, leave a bowl of white vinegar on your countertop overnight. That, coupled with venting, and you'll be thanking us in the morning.
All range hoods are either one of two types: recirculating, also referred to as ductless, and vented, which is often called ducted. Here's the difference:
Recirculating or Ductless Range Hoods
A recirculating ventilation system cleans a kitchen's air via a filter rather than forcing it outside. A ductless range hood is not as effective as a vented one, but it's your least expensive option, mainly because it does not require ducting. It is available with an over-the-range microwave or as a decorative hood.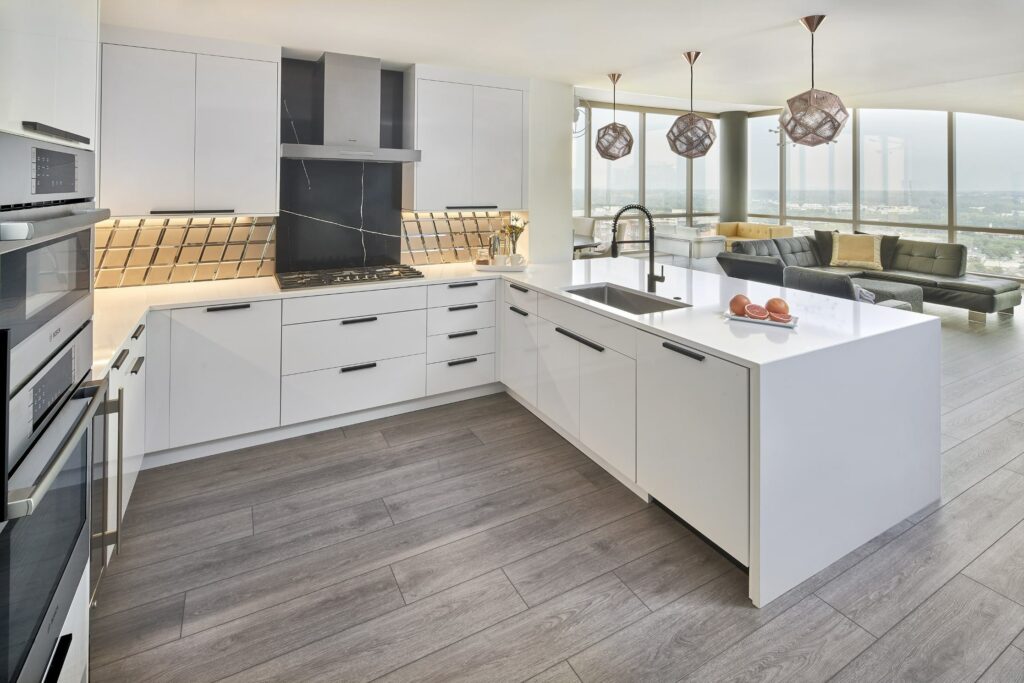 Vented or Ducted Range Hoods
With this option, we install ductwork in the wall or ceiling of your kitchen, drawing contaminants outside. While it better minimizes odors, grease, and smoke, it is the more expensive of the two options. The good news is that this type of system comes in many designs and installation options, so you get to have a little more fun with it.
You will also need to pay attention to the system's CFM (cubic feet per minute), the way to measure the airflow movement into or out of your kitchen. To pass the building code in the Charlotte area, any system higher than 400 CFM requires make-up air, an apparatus that lets fresh air into your home to replace what was depleted by the exhaust fan to prevent negative pressure. Make-up air can add $1500 to $2500 to your kitchen remodeling project cost. While that's not much compared to the total cost of remodeling your kitchen, you may want to choose a range hood with a lower CFM rating if you don't cook much.
When deciding between ducted and ductless range hoods, keep in mind that the design of your kitchen and the location of your range might determine what type of hood is feasible. Duct-free is the less expensive option, but the design options are limited; you will have to change or clean the filter every 3 to 6 months, and they're much less effective. So, make sure to weigh your options and consult with your kitchen designer to ensure you make the best selection for your needs.
Ventilation Design Styles
Now comes the fun part: instead of focusing on the nitty-gritty of duct systems such as CFM, you can let your creative juices flow when you choose a ventilation design style. There are many designs and styles to consider. Let's take a peek at some of our faves:
Also called a wall-mount, this popular hood type is typically vented (some recirculating models are available), with an exposed duct running up into the ceiling. It mounts to the wall above your range or on the ceiling if your cooktop is on the island. You will have to remove any existing cabinets above the range with standard range placement. A chimney hood floats between your wall cabinets and creates a contemporary look, providing more ventilation power than an under-cabinet hood.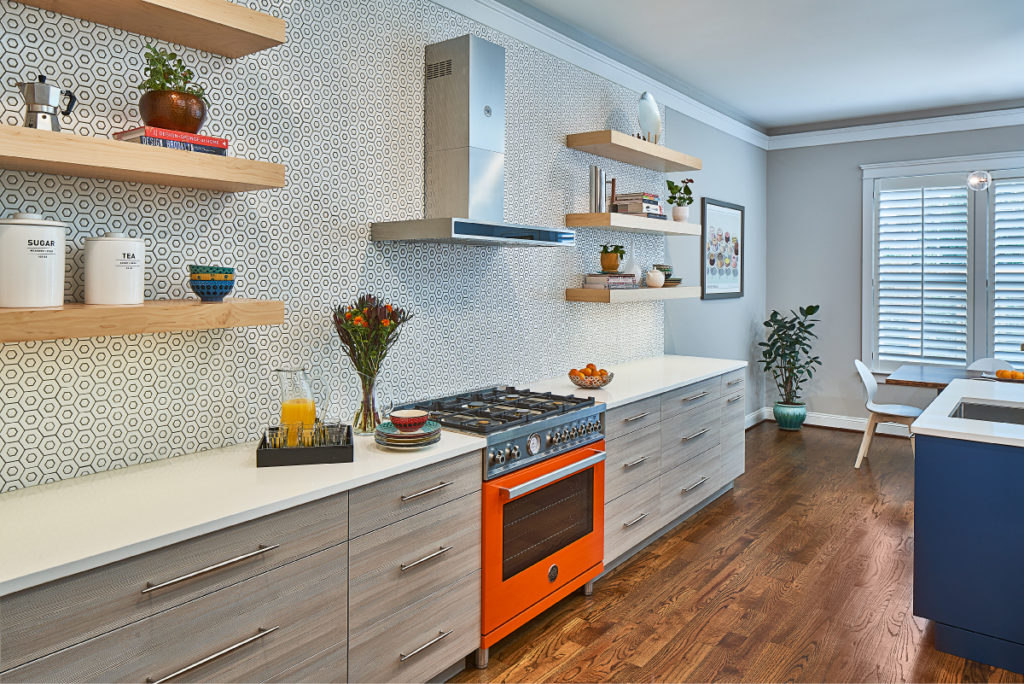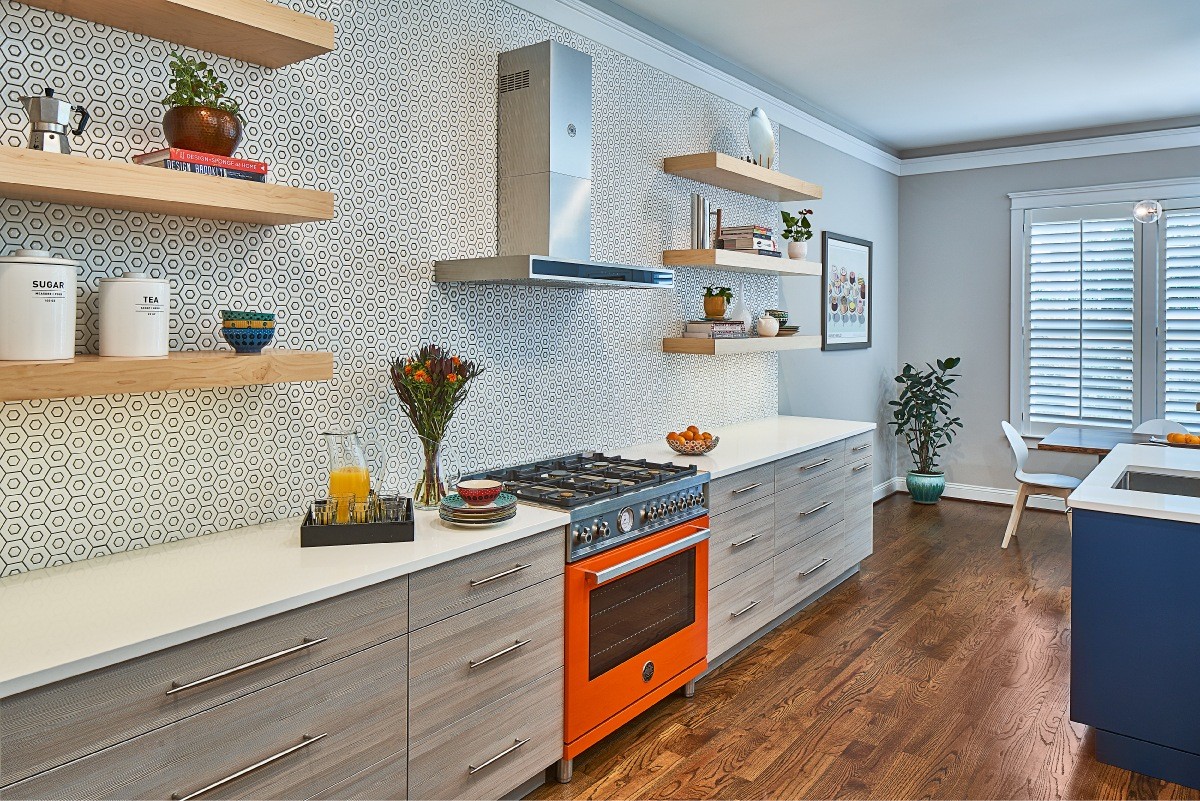 Usually made from stainless steel, this hood fits between two wall cabinets. Ducting is concealed by a cabinet directly above. This choice is a cost-effective solution, especially since ductless options are also available. It's an excellent option for kitchens with cupboards above the cooktop because you don't have to give up the storage space when upgrading your ventilation fan. However, remember that the ductwork will take up a large portion of the cabinet. It also creates a simple look that will blend in with your kitchen's décor. This choice is an excellent cost-saving option if you want to splurge on a significantly more expensive 36" range but don't want to invest in an equally costly hood to go with it.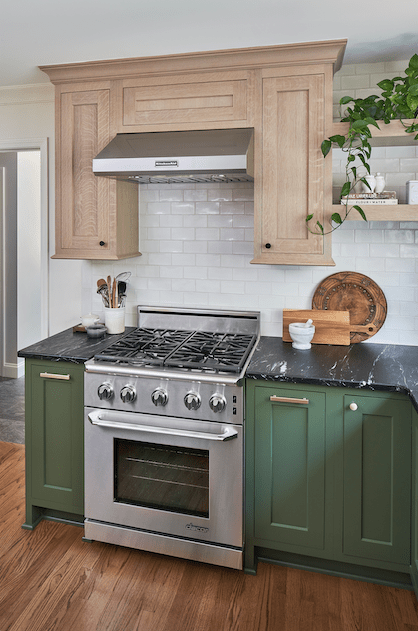 You have to order a liner and blower and install them inside a cabinet shell to use this style. They can either float or anchor between wall cabinets. Cabinet-style hoods offer unlimited possibilities for customization, so you can create one to accentuate your design. However, they come with a hefty price tag. Due to the combustible material used, they must comply with specific building codes governing the spacing above your range; we typically only recommend them for ceiling heights of 9' or higher.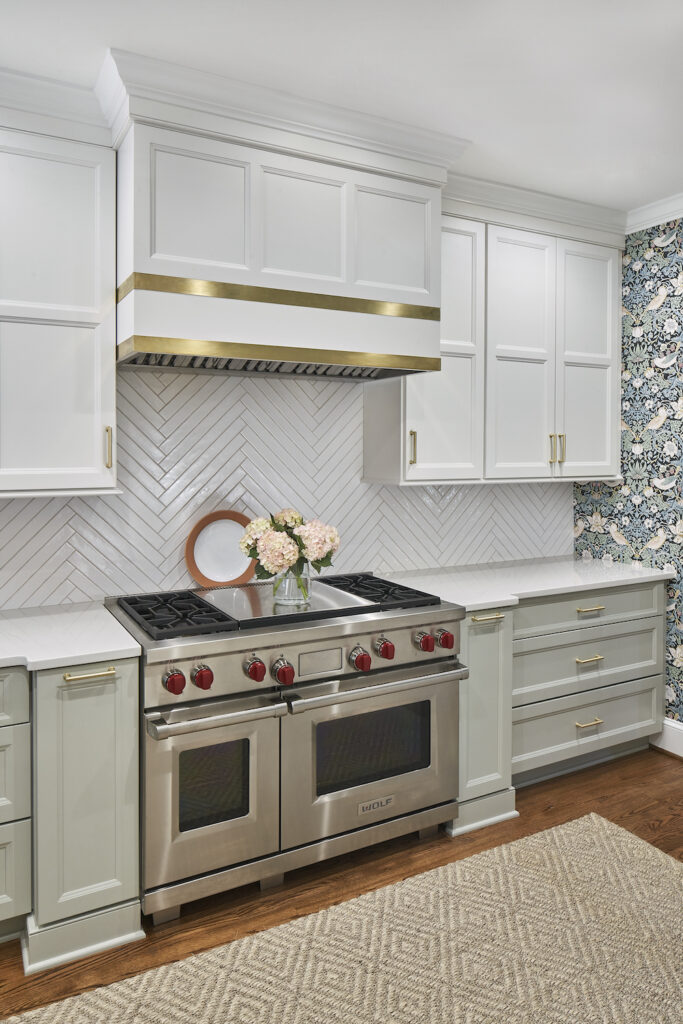 Downdrafts build into an existing cooktop range or sit behind a cooktop as a hidden pop-up that rises from the counter when used. Pop-ups are commonly utilized for islands because they don't require installation that may block the line of vision.   
Downdraft hoods are less effective than updraft hoods because of their limited capture area. They should only be considered a last resort when the only other option is to avoid ventilation altogether. Due to the likelihood that the downdraft will pull in gas flames and result in uneven heating, we do not recommend them for use with gas stoves. But they are popular because they can be installed as pop-ups and hidden when not in use, giving your kitchen a streamlined look.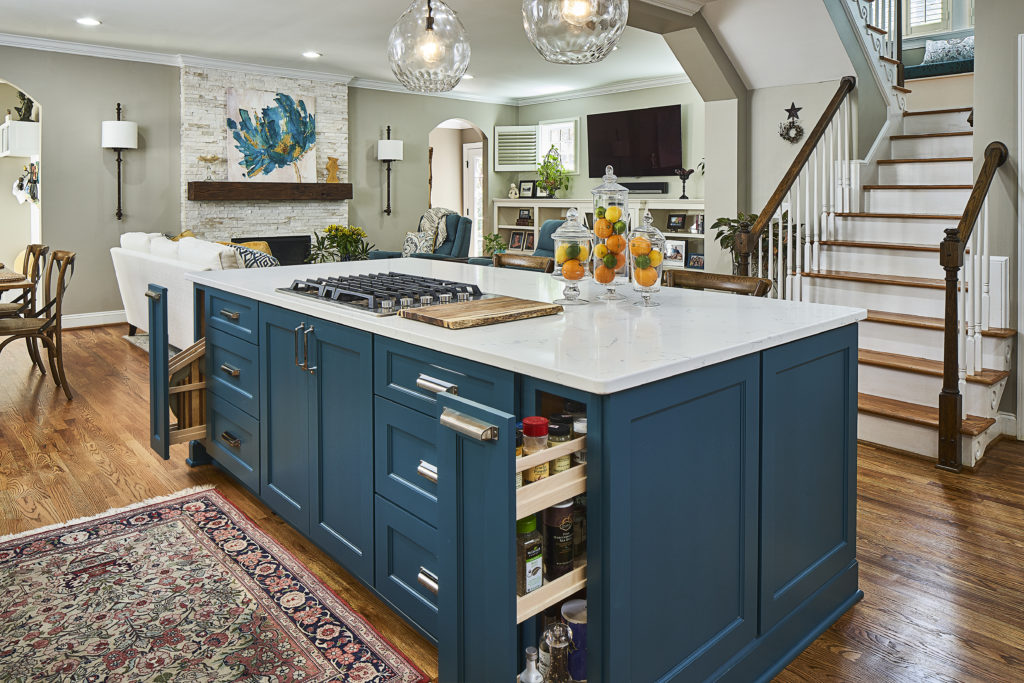 A Few Other Kitchen Range Hood Ideas
You might consider an island range hood to create a gorgeous centerpiece for your kitchen. They come in all kinds of shapes and styles. But because they mount to your ceiling, you will probably have to hire a specialist to create ductwork that runs through your ceiling. You will need the proper amount of clearance, and you'll have to get one with more CFM to maximize its efficiency.
You may also want to check out cast stone range hoods. They are available in various colors, textures, and aesthetics, from a sweeping French country style to a more modern, linear, or geometric design.
Although we are all about having an exposed range hood, there are some that prefer to disguise their range hood. Take a peek at our range hood ideas for making it inconspicuous: