Tile Design Ideas for Your Kitchen or Bathroom Remodel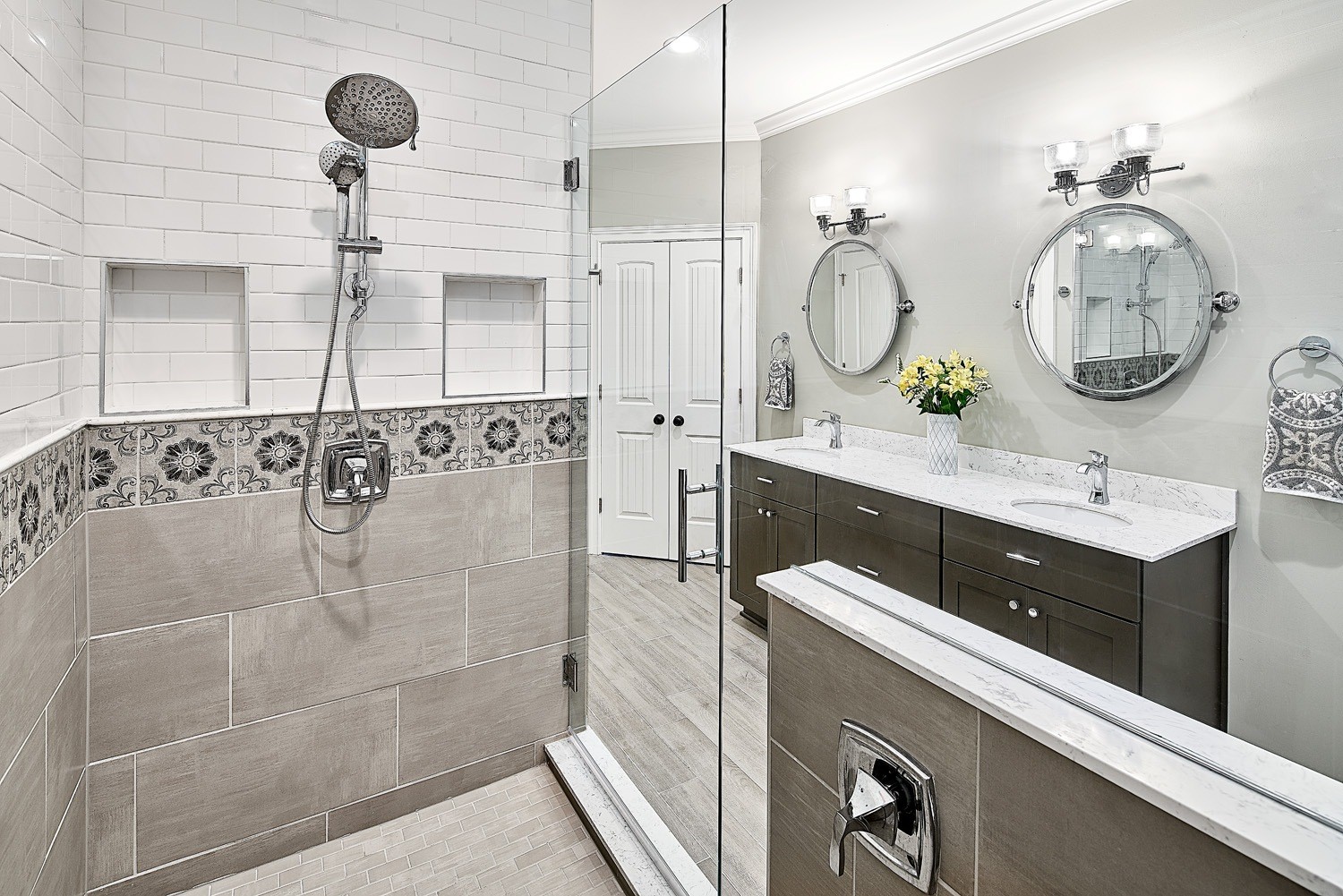 Tile design patterns are a great way to add personality to a remodeling project whether via temporary materials (think fabric and wall coverings) or permanent ones such as tile or even hardwood flooring. Patterns have the ability to elevate simple materials. Take subway tile for example. You can't get much more basic than white 3 x 6″ ceramic tile. Set in a running bond pattern, subway tile backsplash will look traditional and understated, but take that same tile and set it in a herringbone pattern and suddenly it has more visual weight and movement.
When it comes to tile design, straight or grid patterns are often the default for home builders. They're the easiest to install because there are fewer cuts. Fewer cuts mean less material waste and a quicker installation. Quite simply – it's cheaper. But if you're preparing to remodel your home, chances are you want something other than what the original home builder installed. Your kitchen or bathroom designer will make pattern recommendations appropriate for the materials chosen, the location and your desired aesthetic. Also remember that you always have the option between vertical shower and kitchen tile and horizontal shower and kitchen tile.
Popular Tile Patterns and Where to Use Them
Running Bond or Brick Bond
This tile works best for field tiles and mosaics smaller than 12″ x 24″. You can use this tile design with rectangular or square tiles, but traditionally it's done with rectangular bricks, hence the name. Running this pattern horizontally will emphasize the width of a space, while vertical installations emphasize height.
The running bond pattern is popular for kitchen backsplashes, flooring, shower walls, and bathroom wainscoting. It offers a classic look when using traditional tile materials such as subway tile or marble, but it looks just as good with more contemporary porcelain or glass tile as well.
A variation on the running bond is the flemish bond, which also derives from masonry. A flemish bond usually consists of alternating square and rectangular tiles in the same course. While uncommon, it can make for a pretty and unexpected backsplash or shower enclosure. When mixing tiles it is absolutely critical they are the same height and thickness, so you would only do this if the particular tile you chose was offered in two sizes. Otherwise, the grout lines would have to be much larger to make up for the difference and the installation wouldn't look as clean.
⅓ Offset
As wood-look porcelain and large format tile has increased in popularity in recent years, we've started seeing a lot more of this pattern and for a very practical reason. When porcelain tiles are longer than 18″, they tend to bow ever so slightly in the middle, it's just due to the properties of the material and the manufacturing process. When staggered in a traditional running bond (above) the center of the tile may stick up slightly higher than the edges, causing what is referred to as "lippage". Because of that, it's industry standard to install anything greater than 18″ long in a ⅓ offset if it's not set straight.
Beware – When using three courses of this pattern on a wall, it can look like stair steps, but on the floor, it's less noticeable (and more desirable for a wood-look). If stair steps aren't your thing, but you're dead set on that longer tile, try setting it in two courses instead. It'll look like a tighter running bond and there won't be any lippage. We also use this pattern with smaller tiles on backsplash applications.
Straight or Grid
This straight pattern — which is typically made up of square tiles — ends up looking like graph paper. Much like its design, this pattern is simple to install and uses very little waste. When installing rectangular tiles in a grid, that's often referred to as a soldier stack (standing vertically) or a horizontal soldier stack. Soldier stacking rectangular tiles can add a contemporary touch to your backsplash, or shower wall tile design. We've also used this pattern for tile flooring that was a larger format.
"On-point" is just a fancy way of saying we want the grid to look like a diamond, at an exact 45-degree angle. While less popular now, it was all the rage in the earlier 2000s. Anytime a tile is set on point it makes the space feel larger, so it's great for small powder rooms. You can even dress it up with a running bond or mosaic border around the baseboard.
Basket Weave
While the basketweave pattern is typically used in masonry for patios, it also makes a great mudroom floor or backsplash. It's a more artistic version of the stacked stile backsplash. To get more of a woven look, consider a basketweave using two materials of varying sizes. Basketweave stone mosaics are a popular choice for traditional shower floors and bathroom accents, but they don't tend to look as appropriate in kitchens.
Herringbone
This is a classic pattern that works well as both an accent and as the primary, uninterrupted tile pattern in a living space. It does require lots of cuts, making it more wasteful, and expensive to supply/install. Herringbone can add flair in a small mosaic format of your kitchen backsplash or as part of a larger tile design across an entire floor. You can even try herringbone shower tile. Keep in mind that the longer the tile is, the more exaggerated the pattern will be. While you can install herringbone tiles straight — which would result in that same stair-step pattern — it's most commonly installed "on point", which resembles a W.
Mosaic
The term "tile mosaic" refers to a collection of pieces smaller than 4″ x 4″ that are joined together using a fiberglass mesh backing or paper. Attaching these smaller pieces in pre-made sheets makes installation quicker and easier than installing thousands of smaller tiles. That being said, installing mosaic tile takes a great deal of experience and skill. If an expert remodeler creates the tile design, you shouldn't be able to pick out the seems between sheets after the tile has been grouted.
Mosaics can be designed from glass, stone, ceramic, porcelain, metal (see below) or even wood. Generally speaking, the smaller the individual pieces making up the mosaic, the more expensive it will be. Because of this, mosaics make great accents. If you really want to make an impact, take a mosaic and use it as the field tile. When used in large quantities, mosaics take on a wallpaper effect creating that "wow" factor. Mosaics are also used on shower floors due to the sheets' ability to curve with the shower pan to allow proper drainage.