5 Popular Kitchen Cabinet Hardware Ideas for Your Home Remodel
When it comes to kitchen cabinet hardware ideas, it's easy to become overwhelmed by the seemingly endless options available. Do you want knobs or pulls, all pulls, a combination of both, or something else entirely? What about finishes and materials? What size and how many? Just like jewelry can make or break an outfit, the look of your cabinetry can enhance your whole kitchen and give your home a more custom look.
So, where do we start? Since no one wants to spend hours obsessing over knobs and pulls only to realize they made the wrong choice, it's best to lean on an experienced designer who will help you make the right choice for your kitchen. After 15 years of designing and specifying hardware for each of our kitchen and bath remodeling projects, we've developed an effective system for narrowing down the options quickly. Let's explore a few kitchen cabinet hardware ideas and what they could look like in your home.
Things to Consider When Choosing Kitchen Cabinet Hardware
Usage
Function always comes first. By asking yourself three important questions, you can narrow the pool of options quickly:  What kind of cabinets are these going on, how much use do they get, and who is using these cabinets the most?
Kitchen and bath cabinets get heavy usage, so delicate materials like leather or woven tab pulls, or semi-precious stones aren't going to hold up over time. Those built-in cabinets flanking the fireplace on the other hand, are probably opened and closed less frequently, so a more decorative selection would be appropriate there.
If you or a member of your family have large hands, some pulls are going to be much more difficult to grasp than others (like cup pulls, or short pulls). People with arthritis in their hands should avoid knobs as they are almost impossible to grasp. Instead, opt for pulls since they can be opened by hooking something through them if necessary.
In some cases, it may be preferable to order all of your cabinetry with hidden, built-in touch latches, so you can bump the doors with your knee or elbow, allowing them to pop open effortlessly. Contemporary designs tend to work best with this application, but it's not a requirement. If you're interested in this solution, make sure to discuss it with your kitchen designer during the design phase as it's best to order the cabinets like this from the manufacturer instead of trying to retrofit them later.
Material and Finish
Cabinet hardware, whether it's in the kitchen, bathroom, or elsewhere throughout the home, can vary wildly in cost depending on the manufacturer, material and finish. A chrome knob made out of a metal alloy from the local hardware store could be $2, while a solid brass appliance pull for a panel-ready refrigerator could be well over $350. Most people want good quality pieces that aren't going to tarnish or discolor, but don't find it necessary to splurge on solid brass or bronze. They may feel richer in your hand, but most of our clients don't find it's worth the extra investment.
When it comes to finishes, don't fall into the "every single metallic element in the house must match" trap. Production builders use this strategy because it's easy and it saves them time (great for them, not so great for you). Mixing metals creates a much more custom look and really sets your home apart from your neighbors. Nowhere in the house is this more evident than in a space with a lot of metallic elements such as the kitchen. It's ok to have stainless appliances, oil rubbed bronze hardware on your interior doors, brushed brass light fixtures, and a polished nickel faucet with polished nickel cabinet hardware. As long as each finish makes sense with the rest of your design, don't be afraid to mix it up!
Should your cabinet hardware have knobs, pulls, or a combination?
Now that you know how much usage your cabinets are going to get and who is using them the most, consider the breakdown of knobs and pulls. While it's easy to decide to use all knobs or all pulls, the finished kitchen cabinet or bathroom hardware will look much more custom and function better when you take each individual cabinet into consideration.
Drawers and pull-outs tend to operate best with pulls, while doors can easily be opened and closed with knobs or pulls. We prefer a combination of knobs and pulls of various sizes to keep them proportional with the cabinets. This is where things can start to get confusing. Our designers calculate the size and quantity for our clients, but in case you're trying to do it on your own, we've broken down our system below.
Here's an example of the same kitchen elevation, three different ways:
Knobs with Short Pulls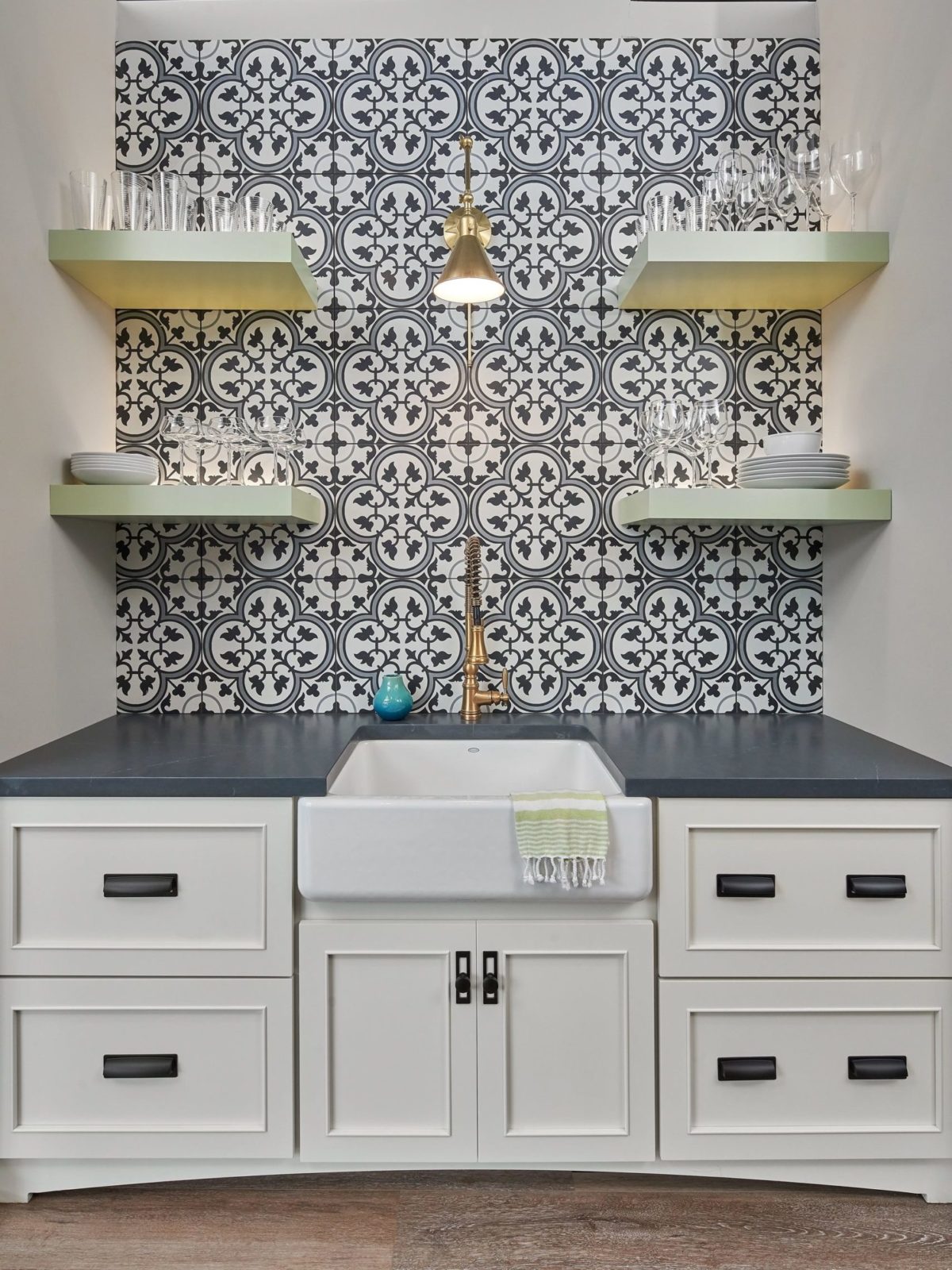 Most higher quality hardware lines offer their pulls in several different sizes, but if you fall in love with one that doesn't you may want to double up like we did here. On drawers over 24" wide, two pulls look more proportional than one small pull in the center. This look is most often seen in farmhouse style kitchens where cup pulls have been selected. Unfortunately, most cup pulls don't come in various sizes.
All Pulls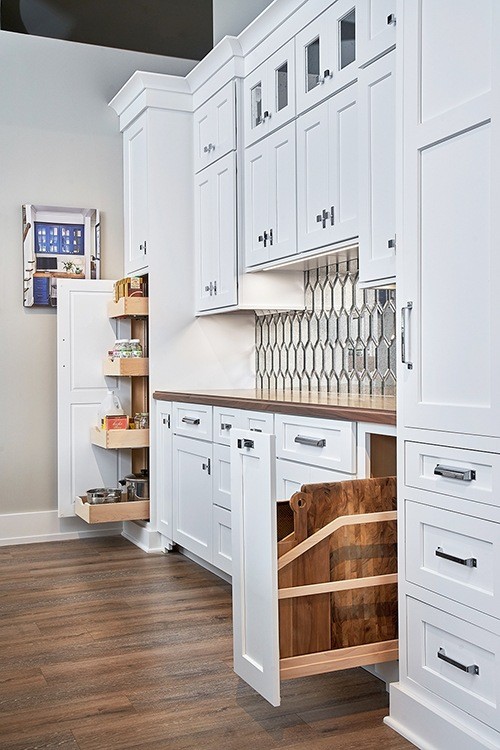 The best way to determine the right size pulls for a set of drawers is to take the width of the cabinet box and divide it by 3. It's unlikely the pull you've selected will ever be that exact measurement, so on wider drawers, choose the next size up. For smaller drawers it usually looks best to size down. If the cabinets are inset, first subtract the size of the frame (typically each side is 1 ¼" or 1 ½" wide, so 2 ½"-3" total). If your chosen cabinet hardware has wider stiles, you may need to size down.
If you're still worried you'll make the wrong choice, just remember to ask yourself three questions: How often are these cabinets getting used? Who are the primary users? What sizes do I need? 
If you'd like this attention to detail on every aspect of your kitchen or bathroom remodeling project, schedule a call with us today to speak to one of our project developers about your goals.